Your Visit & Parking
Finding us:
Sat nav address: King Edward VI Boys School; Edgbaston Park Road B15 2UA
For event parking after 18:30 on a weekday (during normal school terms) and on a weekend or outside school term you will need a parking permit available free online when booking your tickets. With that permit you will have an entrance code that allows you access (via the keypad) for the day; that permit should then be displayed clearly in the window of your cars.
Unfortunately we can only cater for as many cars as there are white bays. Should these look full please find an alternative pay and display within the area or contact the box office (0121 472 9585) to enquire if there is any overspill facility available for that event.
Alternative Pay and Displays within a short walk:
University of Birmingham North East Car Park Multi Storey (access via Pritchatts Road) Sat Nav Postcode B15 2SA

University of Birmingham Pritchatts Road Car Park (at the junction with Vincent Drive) Sat Nav Postcode B15 2QU
University of Birmingham Pritchatts Park (next car park along after Pritchatts Rd car park) B15 2QX
Public Transport:
We recommend that you travel to us on public transport. You will find the University of Birmingham train station a short walk to us and also Bristol Road a stones throw away with bus stops to major bus routes: 63, 144, 886, X61 in and out of the city centre.
Please visit: https://www.networkwestmidlands.com/ to plan your journey.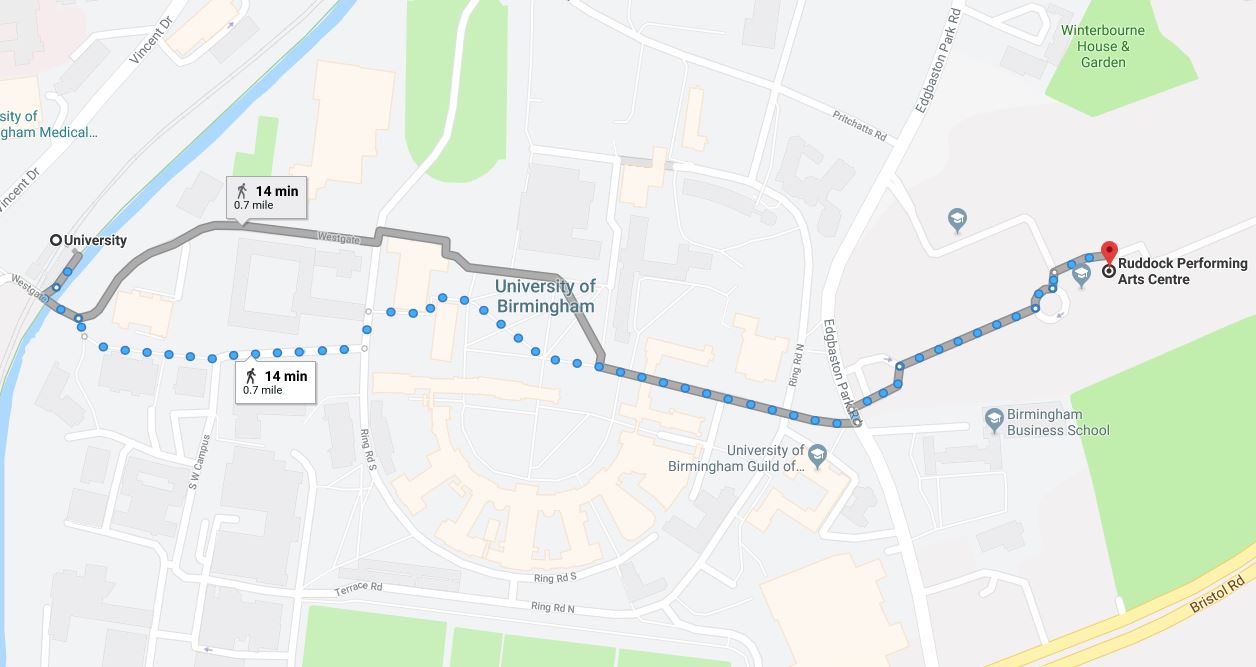 Walking down the main drive:
From the main car park down the main drive if you continue to the bottom and aim to the left of the large school building in front there will be a service road beyond the barrier. Aim for the back of the building and you will see The Ruddock Performing Arts Centre's glass front beyond our large oak tree. Please be careful to use the footpaths provided rather than cutting accross our grass.
Restricted Mobility Access
If you are of restricted mobility please contact our box office between 1300 - 1500 on weekdays to book your tickets; we will advise the most comfortable seats for you and we have a limited number of parking spaces a much closer to the venue. Phone 0121 472 9585 for more details.