Archive
Drama Festival Week (11-15 June 2012)
A week full of performances at lunchtime and after school featuring the drama clubs and societies. They'll be something for everyone; Classical, Shakespeare, 19th Century, Restoration and Modern, Drama and Comedy, boys and girls.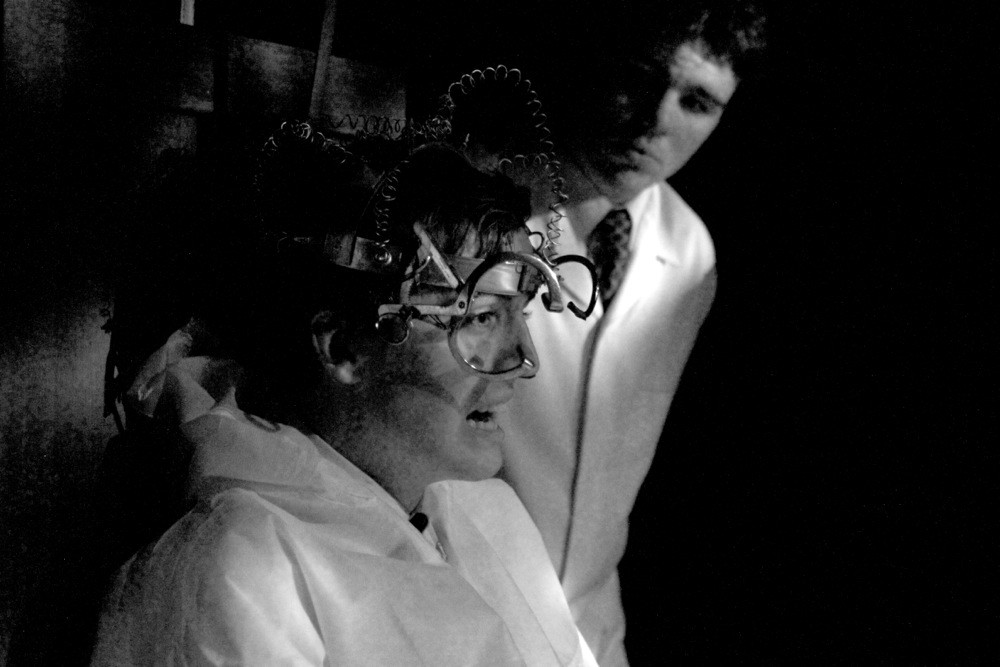 Monday 11th June, 5pm, Drama Studio
The Tempest by WIlliam Shakespeare
A Shakespeare Schools' Festival revival for one performance only! Picture a magical island, populated by sinister spirits and even more sinister characters, whose treachery and greed lead them on a journey they never set out for! This version, however, is cut to half an hour, so stay alert.
Tuesday 12th June, 4.45 p.m, Drama Studio
Not In My Name by Alice Bartlett
Not In My Name was first performed in 2008 at Burnley Youth Theatre and was commissioned by the Lancashire Constabulary in reponse to an identified need for young people to discuss current issues around terrorism and extremism in an informed and proactive manner.
A donation from the Royalties of this play will be made to the charity Victim Support in particular recognition of their work surrporting victims of terrorist attrocity and hate crime.
This poerformance is the culmination of drama exercises and workshop activities undertaken in a weekly lunchtime club run by 2 6th former students and this play present a fitting tribute to all they've achieved over the year!
Wednesday 13th June, 1.05pm, Outdoor Greek Theatre, otherwise Drama Studio
The Frogs by Aristophanes
Aristophanes, an Athenian citizen, was born in about 445 BC and little is known about his life, except that he is presented as a well-liked and convivial person who 'divides his time between Aphrodite and Dionysus.' The Frogs is one of his even surviving Comedies and was written in the darkest days of the Peloponnesian War. The God Dionysus descends to the Underworld to find a poet to bring back: does Athens in her hour of danger need the traditional wisdom of Aeschylus or the brilliant modern cleverness of Euripides? As the great debate proceeds, Aristophanes combines parody with slapstick and political discussion with pantomime high spirits to produce a hilarious and unique masterpiece!
Wednesday 13th June, 4.45pm, Drama Studio
40 Years On by Alan Bennett
'Alan Bennett's most gloriously funny play!' says the Daily Mail. It is an irreverent, brilliant, youthful perception of a nation in decline, as seen through the eyes of a home grown school play… albeit set half way through the last century, Albion House is not entirely unlike a school we all know. a classic!
Thursday 14th June, 12.50pm, Drama Studio
Daisy Pulls It Off by Denise Deegan
Daisy Pulls It Off engagingly captures the uncomplicated innocence of Angela Brazil's schoolgirl novels. It is about the attempts of superachiever Daisy Meredith to submerge her poor elementary school background and find acceptance in the snobby confines of Grangewood School for Young Ladies.
Thursday 14th June, 4.45pm, Drama Studio
The Importance of Being Earnest by Oscar Wilde
The perfect comedy of manners, and first performed in 1895, this play is still able to surprise and delight readers and audiences. Lady Bracknell's snubs are just as devastating and her delivery of that memorable utterance 'A handbag?!' lives on, Gwendolen and Cecily's duels as ferociously polite, Jack and Algernon's banter as witty and sharp as ever and we, the audience, do still eventually find out why Jack realises for the first time in his life the 'vital importance of being Earnest!'
Drama Exhibition
On Thursday 28 June, the Ruddock Performing Arts Centre is opening a drama exhibition in the foyer celebrating the work of stage crew and the many productions throughout the years.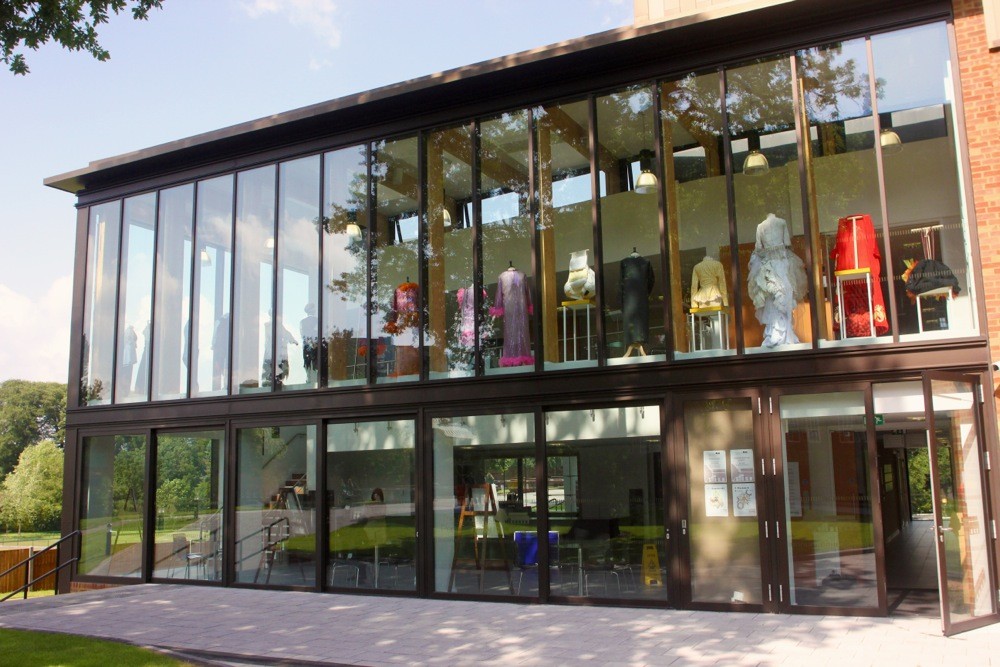 It seems right and proper that our new Performing Arts Centre celebrates as many aspects of performance as possible. Our Exhibition is designed to celebrate and showcase the extraordinary work that goes on behind the scenes to make our shows successful.
We hope to show the excitement and discipline of the creative process; from initial sketches, through trial and error, to final production design. There will be a tiny fragment of the drawings, costumes, props, puppets, model boxes, programmes and posters that the students of the two schools have created over the years, alongside photographs of these elements in performance.
On Friday afternoons, and on innumerable production weekends, the students of "Stage Crew" focus on a particular specialism:
Props: the props department is responsible for all of the small moveable things used in performance – from food to fob watches; from jewelled canes to wedding cakes; from puppets to gas masks – the props team makes them all.
Construction: the physical creation of our often enormous sets is quite an undertaking, offering students an opportunity to work on a scale beyond anything they'd usually be able to in lessons; but construction can also involve the delicate engineering of a bird's wing or a remote control clock.
Scenic Art: once it's made, it need needs painting. Often this involves quite complex paint effects: turning chipboard into metal, brickwork or antique oak.
Costume: while occasionally we are forced to hire costumes locally, we like if possible to create them ourselves; it is the best way to achieve a cohesive "look" for a production (as well as saving money – always a stage crew mantra!).
Lighting: perhaps the least "obvious" discipline, and yet one that makes the most impact on the appearance of a production.
Publicity: a large proportion of the expenses for a production are met from ticket revenue. But the publicity team can also make an exciting creative contribution to the way a production interfaces with its target audience - no room for apprentices here!
Stage Management: the stage manager is the lynch pin of a production, and worth their weight in gold. As the director's right arm, they are responsible for coordinating every aspect of a show and consequently require organisational and people management skills of the highest order.
The exhibition will hopefully give a more in-depth look at how some of these areas work, and the valuable experience that students gain from participating in Stage Crew; as well as an insight into what goes on back stage to make our shows happen. Students of KES and KEHS go on to great things in theatre, as professionals and as experienced and enthusiastic amateurs. As we look forward to moving into our new workshop and getting started on the shows for 2012/13, the exhibition also provides an opportunity to look back and celebrate all those whose contribution to a production has been not only physical, but emotional: what no exhibition can show are the laughs that every production brings.
Opening of The Sir Paul and Lady Ruddock Performing Arts Centre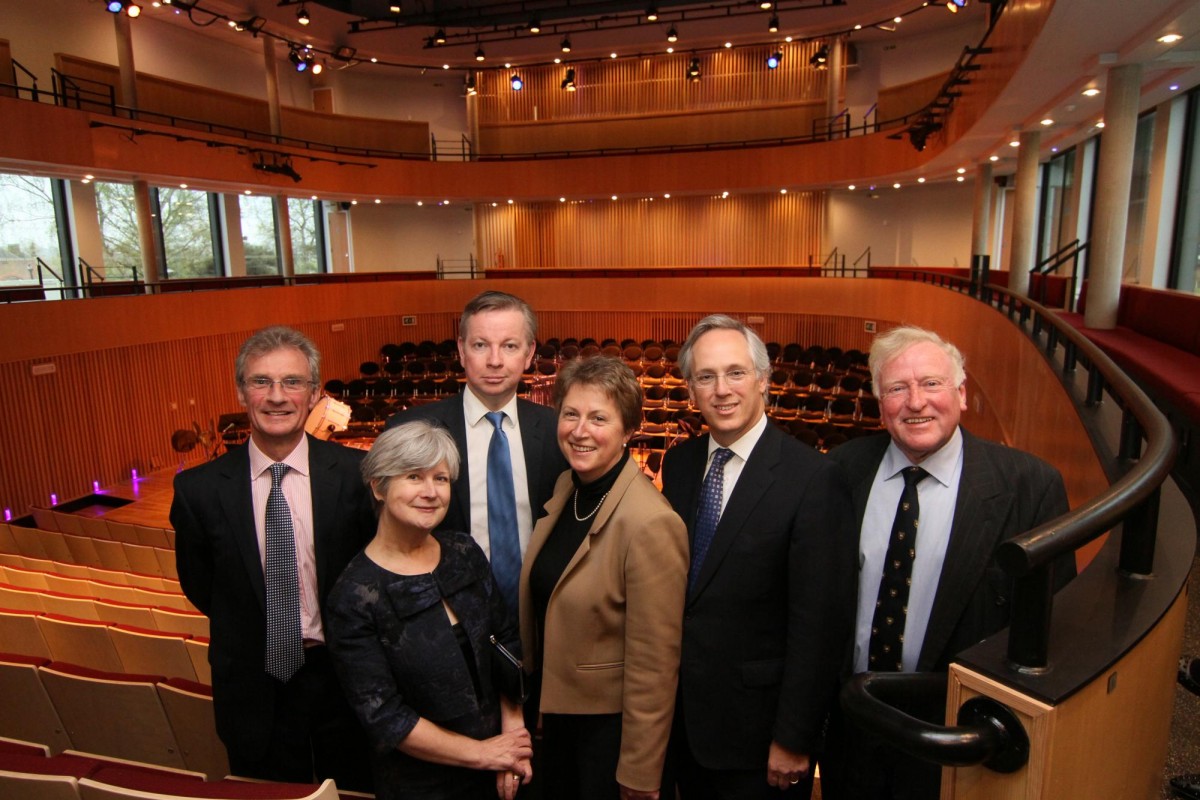 The Sir Paul and Lady Ruddock Performing Arts Centre was officially opened on Friday 27 April 2012 by Michael Gove MP, Secretary of State for Education. The Choral Society and Symphony Orchestra performed in the Ruddock Hall to raptuous applause and the concert was repeated on Saturday 28 April. Pictures from the evening are now uploaded onto the website.